Image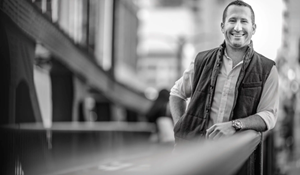 Sam Dorf, Verano Co-Founder and Chief Growth Officer, has been named to the 2019 edition of Crain's Chicago 40 Under 40.
CHICAGO, Nov. 14, 2019 (GLOBE NEWSWIRE) — Sam Dorf, Esq., Co-Founder & Chief Growth Officer of Verano Holdings (Verano™), a national, vertically integrated private operator of licensed cannabis cultivation, manufacturing and retail facilities, has been named to Crain's Chicago 40 Under 40. The prestigious list, now in its 30th year, profiles a diverse collection of emerging business and civic leaders in Chicago. The honorees must, as the title suggests, be 39 years or younger at the time of publication. Notable past honorees from Chicago include David Axelrod & Oprah Winfrey (1989), Rahm Emanuel (1990) and Ken Griffin (2004).
"It's gratifying to come to work every day and help forge a brighter way forward. We're crafting new medicines, improving health & wellness and creating jobs at all skill levels through cannabis – having a positive impact on [potentially] millions across the country," Dorf stated. "To that end, it's a real honor to receive this recognition from Crain's. Just looking at some of the past honorees, it's both humbling and inspiring to be in such company."
 "I'm privileged to play a leading role in developing the potential of this still nascent industry. Great progress has already been made, and momentum is building. I remain vigilant in my advocacy to reduce stigmas around cannabis and to raise awareness about how its prohibition continues to negatively, and disproportionately, impact minorities. We've made significant strides, and we continue to push forward, holding ourselves accountable for responsible use in order to realize the full potential of both Verano Holdings and the cannabis industry as a whole," Dorf continued.
Dorf, a criminal defense attorney turned cannabis entrepreneur in 2013, has architected some of the most formative deals in the space. Born and raised in the Chicagoland area, he is widely recognized as one of the industry's most successful merit-based license application strategists, adept at building and coordinating best-in-class local teams in each market, securing funding and real estate assets and working with municipalities. Over the past six years, Dorf has been instrumental in winning licenses for various applicants in Illinois, Maryland, Massachusetts, Nevada, New Jersey and beyond.
Dorf has played a pivotal role in coordinating strategic mergers and acquisitions, increasing market penetration across the country, as well as unlocking new markets that support a national smart-growth expansion strategy. In this pursuit, Dorf has successfully raised over $140M and obtained 25+ licenses across 11 states. 
Earlier this year, Dorf's strategic prowess was exhibited on a national stage as a key player in Verano announcing a Letter of Intent to be acquired by Harvest Health and Recreation for $850 million – one of the largest U.S. cannabis deals to date.
After serving as defense attorney for many individuals facing cannabis charges, Dorf is a steadfast supporter of Mayor Lightfoot's social equity initiative. He actively pursues opportunities to create, or work with existing, programs geared toward positively impacting communities in need, such as opioid abuse and alternative programs, support for women's shelters and prevention of domestic violence and creating employment opportunities for Veterans.
# # #
Verano Holdings
Verano™ is a national, vertically integrated operator of licensed cannabis cultivation, manufacturing and retail facilities, dedicated to improving lives by providing safe access to effective, pesticide-free products to profoundly impact the communities it serves. Verano creates a full suite of premium, artisanal cannabis products which offer superior medicinal therapies. It designs, builds and operates unique Zen Leaf™ branded dispensary environments that offer an exceptional user experience with unparalleled customer service and individualized care in both medical and adult-use markets. Verano Holdings distributes cannabis concentrates, edibles, extracts, flower and topicals, many in precision-dosed THC and CBD formulations, under its trusted premium brands:  GoldLeaf™, Menta™, Sweet Sins™, Encore Company™, Avexia™ and verano™. 
For more information, visit http://verano.holdings/ and follow us on social media:
LinkedIn: verano holdings, LLC
Instagram: @veranobrands
CONTACTS
Verano Holdings Corporate Office
t: 312-265-0730
Media Relations
e: david.spreckman@verano.holdings
t: 312-819-4852 ext 1006
Attachment
READ MORE: http://www.globenewswire.com/news-release/2019/11/14/1947268/0/en/Verano-Co-Founder-Chief-Growth-Officer-Sam-Dorf-Named-to-Chicago-Crain-s-40-Under-40.html